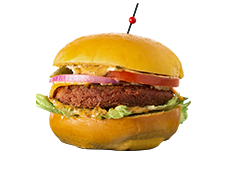 At Birubi Foods we work in partnership with our customers to convert their food ideas into commercially viable products and services.
Our contract manufacturing activities involve developing and supplying custom vegie products to suit our customers specific menu or market needs. We assist smaller businesses to scale-up when it becomes to hard to make in-house and, franchises and other food businesses to service the growing demand for meat-free, allergen free foods.
Our capabilities enable us to supply a range of baked, grilled, fried, crumbed cook-chill and frozen foods including finished products for retail and foodservice applications as well as intermediates for further processing. Our specialisation is creating delicious, convenient plant-based, low allergenic foods free from meat, egg, dairy, gluten and most other mandatory food allergens.
"Schnitz has worked with the Birubi Foods team since 2012. As a key supplier of quality vegetarian ingredients, Birubi Foods plays an important role in helping us to offer our customers tasty, healthy, meat-free meals and grow our business. They have proven to be flexible and adaptive in response to our needs, proactive in supporting our working relationship and servicing our stores and, are always willing to add value further by sharing their knowledge and experience."

"Grill'd has worked with the Birubi Foods team since 2010. As a key supplier of vegie burgers and salad ingredients, Birubi Foods plays an important role in helping us to serve our customers and develop our menus. They have proven to be reliable and responsive to our needs and, their professionalism and dedication to innovation, adds great value to our working relationship."
5 Brooklyn Avenue, Dandenong Victoria 3175 Australia